December 2, 2021
Normal, new normal, social distancing – the post-pandemic world familiarizes itself with new terms every day. With the entire globe getting locked down, nearly all restaurants, hotels, dining places, food courts were closed or forced to function minimally. This resulted in a humongous crisis in the industry and now, to bounce back to its normal state in the new normal is a challenge. During the pandemic, the one thing everyone tried to do was to know themselves, in and out, by prioritizing their health. Hence more people have grown conscious about what they eat, how they eat, how much to eat, and where they eat. There are certain changes to be brought in the functioning of F&B industries at various levels.
Certain changes in the operational design can escape the crisis and attract customers.
HYGIENE
You must never compromise cleanliness. Regular sanitization, use of face masks, gloves, and other safety measures must be ensured. Following hygiene protocols of the government is necessary. In the post-pandemic world, even the slightest negligence can lead to health crises.
CONTACTLESS SERVICE
Instead of the waiters serving every plate to a table, an arrangement of comfortable self-service can be introduced. Some restaurants are opting for robot staff. Such automation can increase speed and consistency. Receiving food with a smile is the best feeling, but till we eliminate the virus, let's be friends with robots…!!
DELIVERY SERVICES
Enhancing delivery services is a MUST. Ever since the pandemic has hit the world, people find it safer and more comfortable to get their food delivered to the dining table. Hence, pocket—friendly, fast delivery services must be introduced. This is high on demand and is sure to bring profits. Along with food delivery services, taking the restaurant home can be an option. Offer your customers a safe, at-home restaurant experience. One chef and a small team can set up a restaurant ambiance at the customers' homes.
MENU CHANGES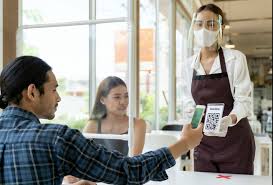 There is an increasing demand for plant-based items. Adding food with nutritional value will attract the crowd. Digital/ scanning methods can be introduced to avoid using paper menus that many people will touch.
DIGITAL PAYMENTS
Digital payment methods were popular even before the pandemic. However, it has become more relevant now as it reduces crowding at the counter. You can place the payment QR Code at each table so that the process is smooth and quick.
SEATING ARRANGEMENTS
Efficient use of space is essential in the F&B game. With social distancing being a necessity, the furniture arrangement should be changed accordingly. This might reduce the seating capacity. However, newer methods such as buffet counters can be introduced to balance that. Alfresco dining is gaining popularity. Outdoor counters and rooftop dining can be introduced. Huge groups coming together to eat is not a common visual today. The concept of solo dining is gaining popularity. You can provide small-sized single tables for this.
VENDING MACHINES
Several restaurants have vending machines for drinks, chips, and other items. This can be extended to packed meals and more items on the menu. This will improve efficiency, reduce crowd at the store and make it easy for your staff and customers at the same time.
Implementing these takes time. You need to plan your finances as well, especially for automated services. However, since the socially-distanced new normal is THE NORMAL, the F&B industry has to make necessary changes. Serve healthy, serve safe.