August 31, 2022
Dubai, which attracts approximately 4.7 million tourists each year, is an excellent place to start a restaurant business. Dubai is quickly becoming one of the top global foods destinations and opening a restaurant in Dubai can be extremely profitable if done correctly.
Before opening a restaurant in Dubai, you must meet certain business requirements, just as you would in any other city. This article will walk you through the entire process of opening a restaurant on the Persian Gulf Coast of the United Arab Emirates.
How To Open A Restaurant In Dubai
Every eatery in Dubai must follow a strict food code, whether it is a fine dining restaurant, cafe, or bakery. This food code is intended to assist the person in charge of running the restaurant in operating in accordance with the requirements.
When planning to open a restaurant, there are several factors to consider, and we have compiled a comprehensive list of those factors. This list will assist you in opening the restaurant of your dreams in the opulent city of Dubai.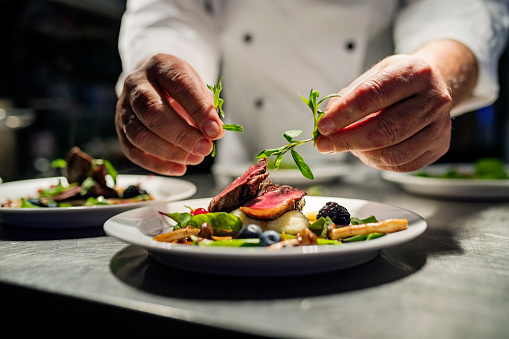 1. Costs To Consider Before Opening A Restaurant
Opening a restaurant requires a significant investment; therefore, before you open a restaurant, make a list of your expenses to avoid wasting money on unnecessary items or going overboard and spending more than is necessary.
Every restaurant owner should have a rough idea of the expenses they will have to bear ahead of time. Before opening a restaurant, consider the following costs:
License
Rent or expense of buying a new property
Permissions
Staff training program
Software for daily operations
Insurance
Working capital
Cost of setting up the restaurant – equipment, tables, chairs, etc.
These are some of the initial investments you'll have to take care of while opening a restaurant.
2. Obtaining A license To Opening A Restaurant In Dubai
Even before you decide to book a slot in your preferred location, you must obtain all of the necessary permits to open a restaurant.
To open a restaurant in Dubai, you must first obtain one of two types of licenses.
Trade license
Food license


(i) Trade License
The Trade License is issued by Dubai's Department of Tourism and Commerce Marketing. You must specify the type of restaurant you intend to operate because it must be clearly stated in the license.
A trade license can cost between AED30,000 and AED40,000, depending on a variety of factors such as the type of restaurant you own and operate.
Steps for procuring the Trade License for opening a restaurant in Dubai are:
Determine the nature of the enterprise – commercial, professional, or industrial
Identify the corporate activities that the company is engaged in (maximum of 10 activities per license)
Designate a legal status for your enterprise in the UAE
Select and register a trading name for your company
Submit an application for initial approval
Lease a corporate office
Prepare all the pertinent documents
Submit a further application to the DED for the final approval
(ii) Food License
The Food Safety Department is in charge of issuing the Food License in Dubai. After you have obtained your Trade License, you must obtain this license in order to receive approval for your restaurant's construction plan.
To obtain a Food License, the following documents must be presented to the food safety department.
(i) Copy of the trade license or primary approval from the authority that issues the trade license
(ii) Interior design layout of the premises, if applicable. This is essentially a blueprint of your restaurant. This restaurant blueprint must contain the following –
The entry and exit passages
Space for processing food
Area for storing food
The windows and ventilation system
Location of food equipment that will be used to prepare the food
Dishwashers, and other supportive equipment
Apart from these, the restaurant is also required to obtain the following licenses:
Food consignment release license
Pork permit for handling and serving pork products
Vehicle permit for transporting food products
Liquor License (if you are planning to serve liquor at your restaurant)
3. Determining Your Restaurant's Concept And USP
When opening a restaurant, you must have a distinct concept in mind, something that will set you apart from your competitors. This will give you an advantage in the competitive restaurant industry of Dubai.
The service style of your restaurant, the food you serve, and the ambiance of your restaurant are all part of your restaurant concept.
Another thing to think about is your restaurant's unique selling point is. A unique theme or an innovative menu item will help you attract a large number of customers. As a result, try something that has never been done before!
4. Deciding A Location
The fact that Dubai is home to over 200 nationalities broadens the scope for restaurant owners and allows them to cater to different audiences depending on the type of restaurant they run. Before you freeze a location, do some research on it and its demographics, as well as whether it has enough foot traffic to sustain your restaurant business.
The location of your restaurant is very important in determining whether it will be a hit or a miss with Emiratis and tourists.
Factors to consider while deciding the location:
• Visibility- It is critical to locate your restaurant in a prominent location. Make sure there is a lot of foot traffic and that your restaurant sign is visible.
• Accessibility- It makes a big difference if your restaurant is in an easily accessible location. Because of the ease with which people can reach your restaurant, they are more likely to return.
• Customer Base- It is critical to identify your target audience before deciding on a location that is appropriate for the desired audience base.
• Affordability- If your rent is high, you may struggle to make a profit on certain food items. Perform your research to see if there is a chance that the lease will skyrocket based on the previous pattern.
• Supplier Proximity- The shipping costs
Some of the best locations to open your restaurant in Dubai are:
Jumeirah
Emirates Hills
Dubai Creek
Mall of the Emirates
Al Quoz
You can choose a site based on the type of restaurant you want to open. For example, if you want to open a fine dining restaurant, Jumeirah Beach Road is an excellent location because it is affluent.
5. Creating The Menu
Before you open the doors to your restaurant, you must curate the menu and decide what it will include. You must also properly engineer your menu and select and price the menu items in order to cover your Prime Cost, which includes the Cost of Goods Sold and Labor Costs.
You must also carefully craft your menu so that your customers are enticed to order the high-profit items. You can accomplish this by placing the high-profit items in prominent locations and writing enticing menu descriptions.
Initially, your menu does not need to be fully designed, nor do your recipes need to be fully fleshed out. As you gain experience, you can gradually update the menu.
6. Designing The Restaurant Layout
Creating a restaurant layout can be a daunting task, but it is a necessary step when opening a restaurant. The layout of your restaurant has a significant impact on its day-to-day operations. It will help your restaurant's daily operations by providing ample space to move around freely, as well as leaving a good impression on your guests because all operations are completed quickly.
You should think about how you can organize your entire layout to meet the goals outlined in your menu and theme.
Use the available space wisely and place all of the elements. To ensure maximum efficiency, everything from the tables to the kitchen equipment must be properly analyzed and installed.
7. Investing In The Right Technology
In today's technologically advanced world, the importance of technology cannot be overstated. When starting a restaurant, it is critical to invest in a reliable POS system that will make your life easier in the long run.
As the owner of a restaurant, you are expected to be present everywhere, supervising various departments, but this is a physically demanding and nearly impossible task. If you want to keep an eye on the daily operations, you must use technology.
A POS system would allow you to perform various day-to-day tasks such as those listed below.
• Billing: A good POS system can handle billing operations efficiently. Billing is one of the most important activities in any restaurant, so you can completely rely on a POS system to eliminate errors. It can also assist you in analyzing the customer's preferred mode of payment and developing offers around it.
• Order Pushing: POS systems allow you to send orders directly to the kitchen, eliminating delays and misunderstandings.
• Stock & Inventory Management: Using a POS, you can efficiently manage your inventory levels. You can determine how much raw material is required or how much is currently available. Inventory management will help you manage your capital wisely and avoid losses, which is critical for anyone just starting out in the restaurant business.
• Accurate Reports: With a POS system, you can get real-time reports and analyze them on the go, eliminating the need to be present everywhere.
• Marketing: A POS system allows you to reach out to your customers and market your restaurant to them by sending emails, SMS, and other forms of communication. A POS system can also be used to run loyalty programs.
All of these features will assist you in seamlessly managing the day-to-day activities at your restaurant, which is essential if you want to make a name for yourself in Dubai's food and beverage industry.
8. Hiring Qualified Staff
Having good employees is a clear indication of a good restaurant and the best service; therefore, hiring the best staff is critical. Because the restaurant industry in the Gulf region has a high turnover rate, it is critical to hire people who will stay and help your restaurant grow.
Before you start hiring you need to consider various roles you wish to hire people for.
Sous Chef
Prep cooks
Manager
Servers
Bartenders (if you wish to serve alcohol)
Host
Cleaning staff
These are some of the basic common staff requirements for all restaurants that you will need to fill before opening your doors. You can begin with a small number of employees and gradually hire more as the need arises.
Opening a restaurant may appear to be a tedious task at first, but it is rewarding if done correctly. Dubai is an excellent platform for aspiring entrepreneurs, with numerous opportunities. The Gulf restaurant industry is expanding, and food service trends are diversifying; there is always room for another fantastic eatery.
Looking to open your dream restaurant or need help with your existing restaurant? Book a Free Consultation Now. Contact info@swissknifeco.com